Home
HAPPY FALL! HAPPY TRAILS!!
Beautiful fall weather we're having!
Warm sunny days. Cool crisp nights. The colors are getting prettier ever day.
It's going to be spectacular for the OPEN HOUSE!
Keep up to date with our weather conditions by scrolling down the Home Page, looking to the right side and clicking on the weather data there. It's automatically updated for the Dunbar-Goodman areas.  
SEPTEMBER 27TH"""DUN-GOOD RIDERS OPEN HOUSE & FUN DAY AT THE CLUB BUILDING ON HWY 8 IN DUNBAR.
10:00 am-5:30 pm. Food, beverages, raffles, fun for all!
Big Work Day to clean up and set up for the Open House will be Thursday, September 18th, Stop by and help anytime after 10 am. Helpers needed. Helpers appreciated.
******Would you like to volunteer to help with the Open House? Set-up or take down or help work that day? We would welcome new helpers with open arms! Please send Pat an email at vintagepats@yahoo.com and we can give you all the information.*****  We would also appreciate donations for door prizes. If you would ask your favorite business places to make a contribution, you can drop the donations off at North Country Inn before Friday, September 26th. Thank You! Your Club appreciates your help!  
WIN ME!  I'M A MASSIMO 550 EPS UTV. I'M THE FIRST PRIZE. SECOND PRIZE  IS THE 2-PLACE TRAILER PICTURED HERE AND WE COULD BE YOURS FOR JUST $10! BUT TIME IS RUNNING OUT!  GET YOUR TICKETS SOON!!

Other great prizes also on the tickets! The "Smooth Trail Raffle Fund" drawing is at 5:30 pm on September 27th at the

Dun-Good Riders Open House.

Tickets are $10 each and are available from our trail sponsors. Winners need not be present. We'll call you ASAP!
Good News! Gas is available in Dunbar! Gas pumps are across the street from the North Country Inn. Go inside the bar and prepay before pumping. Non-Ethanol gas too!!  
*****NORTH COUNTY INN IN DUNBAR IS NOW SERVING BREAKFAST ON FRIDAY, SATURDAY AND SUNDAY MORNINGS FROM  7 A.M. TO 11 A.M. ***** And more good news from our friends at North Country Inn in Dunbar. They now have an Automated External Defibrillator available for use in the area. It is a portable unit so it could be used out on the trails if the need would arise. Thank You NCI for caring about your community and  our visitors!
Now's the time to be planning your fall or winter visit to our area! Click on our trail sponsors listed on the left side of the page for more information about the area. If you have questions, please send us an email or call one of the contacts listed. We'll try to help. We look forward to your visit! We'll be grooming the dirt weekly and working to keep our trails in tip top shape for families to enjoy. We will keep updating the web site and the Face Book page on a regular basis so stop by often to read about our club and our area.
Go here for information on where to purchase out of state (non resident) trail passes and other DNR license information: http://dnr.wi.gov/Permits/CSRSP/LicenseAgents.
We'll be posting more news updates and information in the "NEWS" section from now on. Don't just stop at the Home Page….check it all out! I'm always looking for information on events or fundraisers planned in the towns or by the groups that directly support our trails and the club. Have news? Send me an email….vintagepats@yahoo.com We will check it over and if it's approved, we'll post it here and on our Face Book page.
When checking the EVENTS on the left side of this home page, you will see the most current events listed. Click on the event you're looking at, you will go to a page with complete information, even  includes a map in case you're not sure where it's located! Any problems with this or accessing anything on the web site, please send an email  to vintagepats@yahoo.com and we'll try to help!  Please contact an officer for club information. Contact info is listed on the web site, or send an email to vintagepats@yahoo.com.
Picture from the Pembine Centennial Parade. Who is that furry guy??? Hint: His name is Joe. And Pat says "No Snow? No problem! I got wheels"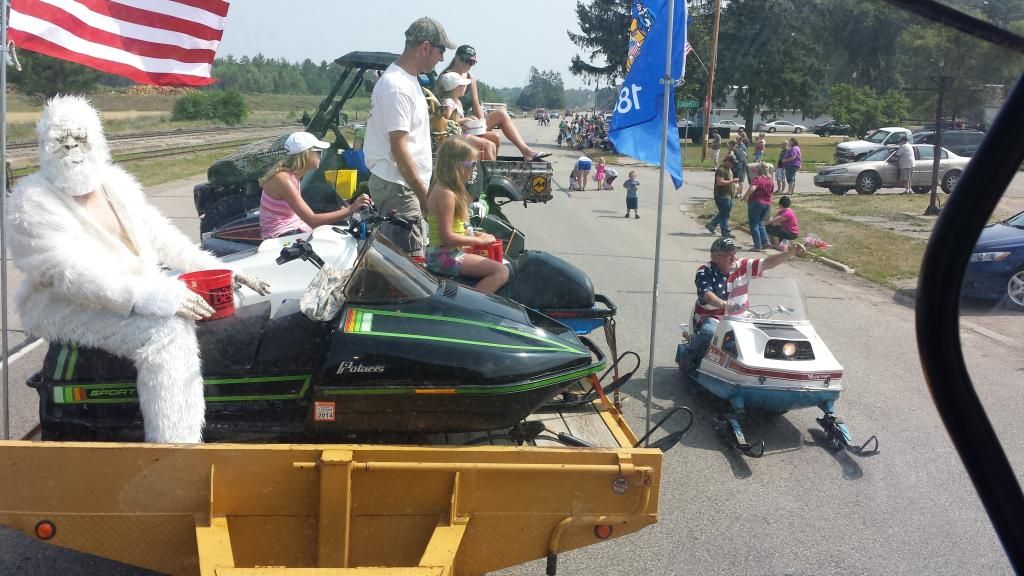 Welcome to the new and improved website of the Dun-Good Riders. The Dun-Good Riders Inc. is a non-profit organization of dedicated individuals, who's constant vigil is to maintain our trails to the best of their abilities. We currently care for 70 miles of snowmobile trails, through some of the most beautiful acres in God's country. We also watch over 130 miles of year round ATV trail. Our only hope is that you will have a safe and joyful experience every time you visit our trail system. On our site you'll find information that you will find helpful, when planning your outdoor adventure in the Dunbar and Goodman, WI area. Please take the time to fully explore our site, and feel free to contact us with any questions you might have.