Home
 Happy Summer! Happy Trails!
August 18th Update: We're getting rain!! Now the trails won't be so dusty. Get out there and ride!
MEETING REMINDER:
Jerry & Diane's Green Shack in Armstrong Creek will host the club's Monthly Meeting on Tuesday, August 19th beginning at 7 PM. All members are welcome and encourages to attend.
Click on "NEWS" to read about the Summer Long Poker Run stops in Wausaukee & Amberg and about events in these areas.
CLICK ON THE PICTURE TO ENLARGE IT AND TO SEE MORE PICTURES FROM THE PEMBINE CENTENNIAL P ARADE.
Pictures of the Dun-Good & NEWLBVR entries in the Pembine Parade! Who's that white, furry guy?!  (Hint—his name is Joe Stoll!)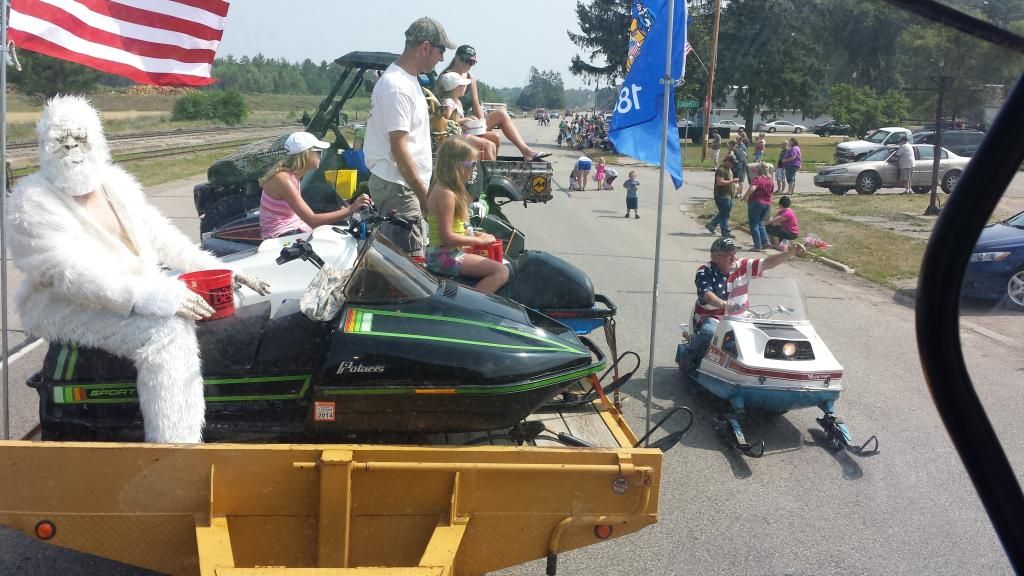 The white furry guy was JOE STOLL!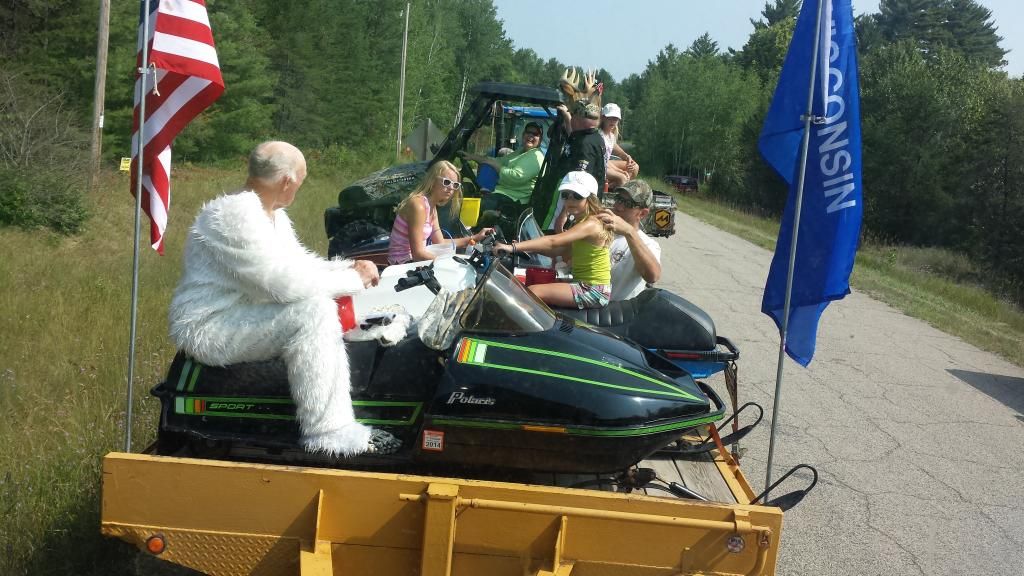 Please go to the "NEWS" to read about the Summer Long Poker Run sponsors located in the Amberg-Wausaukee area.
We'll be posting more news updates and information in the "NEWS" section from now on. Don't just stop at the Home Page….check it all out! I'm always looking for information on events or fundraisers planned in the towns or by the groups that directly support our trails and the club. Have news? Send me an email….vintagepats@yahoo.com We will check it over and if it's approved, we'll post it here and on our Face Book page.
PLEASE NOTE THE LOCATION FOR THE SEPT. 16TH MONTHLY CLUB MEETING HAS BEEN CHANGED! The Sept 16th meeting will be held at the Dun-Good Riders Club Building on Hwy 8 in Dunbar, NOT at Richards as was printed on your Calendar of Events. Meeting will begin at 7 pm at the Club Building (due to the fact that Richards remains closed at this time)
The ATV Resolution passed in Vilas County Tuesday (7/22) evening! This means that the planning process to develop atv/utv trails & routes can begin. This does not mean you can ride in Vilas County right now. Please don't do anything that will cause problems (like riding illegally). They have a lot of work to do but now they have a starting point. Thank you to everyone who supported the resolution! Believe me, your support DID make a difference……. they did take notice of the support! Thanks again.
Gas is once again available in Dunbar! Gas pumps are across the street from the North Country Inn. Go inside the bar and prepay before pumping. Non-Ethanol gas too!!  
WIN ME! I'M A MASSIMO 550 EPS UTV AND I COULD BE YOURS FOR JUST $10!
I'm the first prize in the Dun-Good Riders Smooth Trail Fund Raffle this year. Tickets are $10 a piece and only 1800 tickets being sold. Tickets are available from our trail sponsors and from club members. I come with all the options you'll need to really get out and enjoy the Dun-Good trails! I  will be on display at our sponsors throughout the summer. This 4th of July week end, you can see me Lake Hilbert Campground and get your tickets there too! The club purchased this Massimo from club members Mike & Amy Newingham, owners of the new Pembine Sport and Lawn on Hwy 141 in Pembine. You can stop at their store to see similar units on display. They carry a full line of side by sides, atv's and accessories, also  boats, lawn mowers etc., sales and service…..all "power for the outdoors".
Second prize in the drawing is the Trail Rider Trailer pictured here. We purchased the trailer from Jon & Amy Lischka at Lischka Roofing & Seamless Gutters in Pembine. See them for roofing and gutters, but they also sell all types of trailers! Call phone 920-905-4917 or 715-324-6230. Jon & Amy are also club members and we thank them for their support.
The tickets cost $10 each, 1800 being sold. The drawing will be held on Saturday September 27, 2014 @ 5:30 P.M. at the Dun-Good Riders Club Building on Hwy 8 in Dunbar. The drawing takes place during our annual "OPEN HOUSE & FUN DAY". Plan to stop in and have some beverages, good food and fun before your name is drawn to win this beautiful side by side!
Other prizes on the ticket, in addition to the UTV and the trailer, are a 50″ Flat Screen TV for 3rd. Fourth prize is a Husqvara 445 Chain Saw, donated by Pembine Sport & Lawn, 5th is a Colleh Platinum Helmet Communicator, and a Carter Casino Package, donated by Potawatomi Carter Casino Hotel, is the 6th prize. Get your tickets early! They're selling like hot cakes. Thank you in advance for your support. All proceeds go toward the maintenance of our trails, building and equipment. ***Please note that Richards' Supper Club and Motel in Dunbar are both closed due to the sudden death of the owner, Rick Newingham. We have no word on when the business may reopen. In the meantime, there are several rental places in or near Dunbar, listed on the left side of our Home Page that you can check out. The Grand Motel is just a short distance away at the junction of Hwy 141 & Hwy 8 in Pembine, phone is 715-324-5417. North Country Inn in Dunbar now serves breakfast on Saturday and Sunday mornings! Also sad to report that the "Little Store" (Bear Necessities) in Dunbar is closed. Gas is now available across the road from the North Country Inn. Gas is also available in Goodman at Rocque's 8-HI Club and the Stoney Ridge BP. You can find additional gas stops in Pembine, Amberg and Athelstane as well as Armstrong Creek.  Most of these gas stops are also sponsors on our "Summer Long Poker Run". Plan your stops so you can get those books stamped too! First prize is $1000 so it's really worth the effort! *****NORTH COUNTY INN IN DUNBAR IS NOW SERVING BREAKFAST ON SATURDAY AND SUNDAY MORNINGS FROM  7 A.M. TO 11 A.M. ***** And more good news from our friends at North Country Inn in Dunbar. They now have an Automated External Defibrillator available for use in the area. It is a portable unit so it could be used out on the trails if the need would arise. Thank You NCI for caring about your community and  our visitors! Thank you to everyone who supported the club's "Fall/Winter Raffle"! The winners are listed in the "NEWS" SECTION of the web site. 
Now's the time to be planning your visit to our area! Click on our trail sponsors listed on the left side of the page for more information about the area. If you have questions, please send us an email or call one of the contacts listed. We'll try to help. We look forward to your visit! We'll be grooming the dirt weekly and working to keep our trails in tip top shape for families to enjoy. We will keep updating the web site and the Face Book page on a regular basis so stop by often to read about our club and our area.
 Go here for information on where to purchase out of state (non resident) trail passes and other DNR license information: http://dnr.wi.gov/Permits/CSRSP/LicenseAgents.
When checking the EVENTS on the left side of this home page, you will see the most current events listed. Click on the event you're looking at, you will go to a page with complete information, even  includes a map in case you're not sure where it's located! Any problems with this or accessing anything on the web site, please send an email  to vintagepats@yahoo.com and we'll try to help!  Please contact an officer for club information. Contact info is listed on the web site, or send an email to vintagepats@yahoo.com. Welcome to the new and improved website of the Dun-Good Riders. The Dun-Good Riders Inc. is a non-profit organization of dedicated individuals, who's constant vigil is to maintain our trails to the best of their abilities. We currently care for 70 miles of snowmobile trails, through some of the most beautiful acres in God's country. We also watch over 130 miles of year round ATV trail. Our only hope is that you will have a safe and joyful experience every time you visit our trail system. On our site you'll find information that you will find helpful, when planning your outdoor adventure in the Dunbar and Goodman, WI area. Please take the time to fully explore our site, and feel free to contact us with any questions you might have.